Saturday, October 31, 2009
TOMORROW in London: Back II Life with Jazzie B (Soul II Soul)
Video: Rob Murat - Walk With Me Vol. 2 with Amanda Diva
Video: "Stretch Armstrong Gots a Story to Tell...."
Friday, October 30, 2009
RIP Jam Master Jay (Jan 21, 1965 – Oct 30, 2002)
Music Video: Jay-Z feat. Alicia Keys - "Empire State Of Mind"
Music video: Camp Lo feat. Styles P - "On Smash/89 of Crime"
1976 News Footage of the Devils Rebels Street Gang In Brooklyn
Video: Black Thought x Black Dante (Mos Def) - "75 Bars"
New music: Chiddy Bang - The Swelly Express mixtape
Clinton Sparks & DJ Benzi pres. Mike Posner - One Foot Out The Door mixtape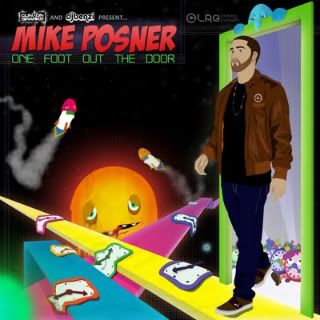 Here's the plug:

"

On his much anticipated sophomore mixtape,

One Foot Out The Door, singer/songwriter/producer

Mike Posner

has developed his signature sound into a movement that has gotten him signed to J Records, on stages opening for the likes of

Akon

and on the pages of The New York Times, The New York Post

and

XXL

Magazine. And he's still a senior at Duke University! On his latest effort Mike deftly crafts a rich soundscape of hard hitting instrumentals coupled with clever songwriting indicative of someone twice his age. While his first mixtape posited it was only

A Matter of Time

until his buzz took off, on this offering, he makes it clear he has

One Foot Out The Door into the stratosphere. Featuring guest appearances from

Kid Cudi, Bun B, Big Sean, GLC, 3Oh!3, Freddie Gibbs

and

XV

."


Track listing:

1. One Foot Out the Door
2. I Don't Trust Myself
3. Traveling Man (Snippet)
4. You Don't Have to Leave
5. Cooler Than Me (Gigamesh Remix)
6. Don't Trust Me (Benny Blanco/DJ Benzi Remix)

ft. 3OH!3 and Kid CuDi


7. Kiss Me Thru the Phone

ft. Saigon


8. Red Button
9. Bring Me Down

ft. Big Sean & Freddie Gibbs


10. Mirror's Edge Benzi Remix

ft. Bun B, GLC, and XV


11. Speed of Sound

ft. Big Sean


12. Close the Door

ft. Clinton Sparks



Featuring prodcution by

Mike Posner, Seven, Clinton Sparks, 3OH!3

and more....

Download the

Mike Posner

-

One Foot Out The Door

mixtape HERE. [usershare via Elitaste]

Labels: Clinton Sparks, DJ Benzi, mixtapes
Tweet
New music: USDA - "Look At Me"
DJ Whoo Kid x Soulja Boy x DJ Scream - Cortez mixtape
DJ Whoo Kid x Lil Boosie x DJ Scream - Thug Passion mixtape
New mixtape: Lil Wayne - No Ceilings
Kanye West - Glow In The Dark Tour Book Promo Video
Video: Pill Live at the Levi's/FADER Fort NYC
Music video: Gangsta Gibbs - "Boxframe Cadillac"
Music: Masta Ace & EDO. G (A&E) - "Ei8ht Is Enough"
Music video: Tech N9ne - "Leave Me Alone"
Video: Three/21 & Best Of Both Offices pres. "The Wu-Massacre" Trailer Part I
New remix: New Boyz "Turnt (Jam Master A - Jerkin House mix)"
Thursday, October 29, 2009
Coming soon: Hollyweerd - The Mandatory Mandate
The DJ Smallz Travis Porter x G Fresh - Totally Differenter Interview
DJ Smallz Interview with New Group, Krave
Introducing new Def Jam artist YG!
Video: The Ranger$ - Jerkin' Is A Habit Vol. 1 (preview trailer)
Classic NY Gang Documentary, Flyin' Cut Sleeves Finally Released on DVD
Truth & Soul present Ghetto Brothers - "Ghetto Brothers Power" (7" 45 re-issue)
Video: Jasiri X - "Dear Debra: A Letter to BET"
Wednesday, October 28, 2009
Its a Felabration 2009 - Celebrating The Life & Music Of Fela Kuti
The CIA: Bigger Smack Dealers than Frank Lucas and 'Freeway' Ricky Ross Combined?
CBS Video: Taliban Massacres Women and Children in Marketplace Attack
CBS Video: Deadly Coordinated Taliban Attacks Today in Lead-Up to the Afghan Run-Off Election
AP video: 50 cent Goes Gangster in Dead Man Running
Introducing new artist, OB...
Swollen Members - "Cross Fire" Feat. Talib Kweli, Krondon, Phil Da Agony & Tre Nyce
More music from Mike Schpitz...
Music From CunninLynguists' Strange Journey Volume Two
New music: Main Course - "Fresh Air"
The Doppelgangaz - "Good Hygiene/ Timbuktu" Maxi Single
Music video: Classified – "Quit While You're Ahead" feat. Choclair, Maestro & Moka Only
R.A. The Rugged Man – "Bad Biology (So You Wanna Make A Movie)"
Video: Buck 65 - "Pants On Fire"
50 Cent - Before I Self Destruct, The Movie (Official Trailer)
New Hip Hop Battle: Blak Roc vs. Black Rock!
Tuesday, October 27, 2009
Video: Eminem x Mos Def x Black Thought x DJ Premier - BET Hip Hop Awards Cipher #3
Music video: Dorrough - "Wired To The T"
Famous - Goddess Girl: The Movie [Scene 4: "The Declaration"]
New Idle Warship x Mick Boogie - Party Robot mixtape
New music: Karen O and the Kids - "Home (remix)" feat Prophit
Coast 2 Coast Mixtape Vol. 100 (Hosted by DJ Drama)
New music: Soulja Boy – "Play Ball" feat. Drake
New music: Lil Wayne - "Run This Town"
Video: Melanie Fiona - Subway Series (Canada)
CBS video: Fourteen Americans Killed In Afghanistan
Video: Chris Brown - "I Can Transform Ya" feat. Lil Wayne & Swizz Beatz
New mixtape: Freeway x Benja Styles - The Calm Before the Storm
New music: Shawty Lo feat. Ludacris, Gucci Mane & The-Dream - "Atlanta, GA"
New music: Supastar LT feat. Kardinal Offishall & Red Cafe - "I Love My City"
Music from Kid Sister's Ultraviolet album
Music video: 3Oh!3 feat. Katy Perry - "Starstrukk"
Music video: Triple C's - "Erryday" feat. Young Jeezy
SalaamRemi.com presents CJ & DJ Driis - The Package mixtape
Video: DJ Tone Capone Mixing with One Turntable and his iPhone!
DJ Jazzy Jeff: New Michael Jackson Tribute Mixtape & DJ/Production Video
Music Video: Stalley - "The Autobiography"
Video Trailer: Chris Brown - "I Can Transform Ya" feat. Lil Wayne & Swizz Beatz
Movie: Beat Makers (Full version)
Monday, October 26, 2009
Music video: Belly - "Hot Girl" feat. Snoop Dogg
I Teach Y'All How To Stunt: Dior Homme Sneakers
Video: DJ Craze - Roc Raida Tribute LIVE