Thursday, October 29, 2009
Truth & Soul present Ghetto Brothers - "Ghetto Brothers Power" (7" 45 re-issue)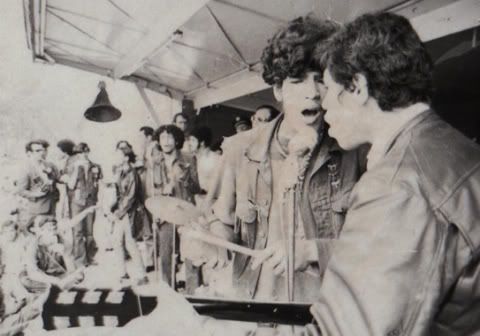 Now this is that REAL sh-t. Note to labels and promo companies:

please

send me more stuff like this!!!!

Here's the plug:

"

The Ghetto Brothers

were a gang founded in New York City's South Bronx in the late 1960s. They eventually spread to much of the Northeastern United States. Like the Young Lords, they were involved in Puerto Rican nationalism, including, in the case of the Ghetto Brothers, an association with the then-new Puerto Rican Socialist Party. Ghetto Brothers founder

Benjamin Melendez

, who left the organization in 1976, was also known as a guitarist. He led a band, also known as the Ghetto Brothers, which included his late brother

Victor Melendez

on drums. They released one album in 1972, which had only informal, local distribution. In the past ten years, Power Fuerza,

which has become shrouded with mystery, has fetched quadruple digits on ebay and become one of the most sought after New York records of all time.





Now one of the most enigmatic, purely New York records of all time is finally available to the masses. The Ghetto Brothers 45 "Ghetto Brothers Power" b/w "I Saw A Tear", which is a single taken off their full-length

Power Fuerza

LP has been polished up and re-mastered from the original record. "Ghetto Brother Power" is an anthemic powerhouse that reminds us how strong and influential the Ghetto Brothers message was. Complete with wah-wah guitar, gang vocals, congas, and hard-hitting drums, this tune has been on constant repeat at TRUTH & SOUL for a long time now. Side B, "I Saw A Tear" is a heart wrenching ballad that has that classic Ghetto Brothers sound.

"



Download:




Ghetto Brothers

- "Ghetto Brothers Power" [yousendit mp3 download link]




Online:





The Ghetto Brothers

- label website | website


Related:

I'm gonna do a post on the excellent, recently-released

Flyin' Cut Sleeves

DVD that features Benji Melendez of The Ghetto Bros. that I got a couple weeks back and just watched.
Tweet