Wednesday, August 12, 2009
New music: Sheen Brothers (Cosmo Baker & 4th Pyramid) - Scumbag Funk Vol. 1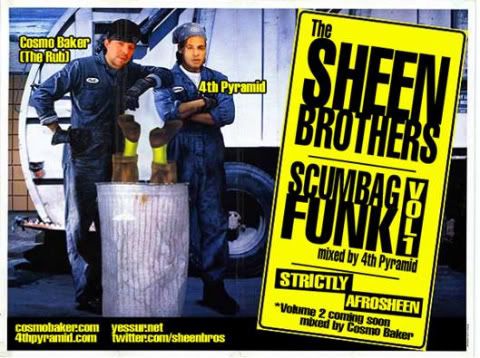 Anyhting by Cosmo Baker is worth checking out. About the Sheen Brothers:


"DJ extraordinaire Cosmo Baker (The Rub, NYC) and MC/Producer phenom 4th Pyramid (Toronto) jokingly came up with the concept of THE SHEEN BROTHERS one balmy Manhattan evening: A duo of slicked-out sleazestars tuned into the greasy funk and drippy disco sounds that make girls lose control and guys feel like macks hit the stage in style to turn the party out. Unbeknownst to them, the two hit on a virtual party rocking monster machine that's no joke. With Cosmo on the ones and twos and Pyramid on the MPD, these two have smoothed out their own brand of sexy dance floor flavor, what they like to call Scumbag Funk, and the people want more. What can they say…it's a Sheen thing.

Now, you can get your greasy fingers on a piece of SHEEN with this, their much anticipated mix, Scumbag Funk Vol. 1. Out the gates first with an electrifying mix of the dankest drippy-disco around is SHEEN Brother, 4th Pyramid. Get ready for the funk at its finest, being a sleaze ball never felt this good."

Includes tracks by Labi Siffre, Kleer, Serge Gainsbourg, Boney M and Michael McDonald. Click here for the back cover with the full track listing.

Download Scumbag Funk Vol. 1 here: zshare stream/download | direct mp3 link [right click and save as]

And oh, it's (partially) a T.dot thing!!!


Online:

Sheen Bros. - twitter | 4th Pyramid | Cosmo Baker | yessur.net

Labels: 4th Pyramid, Cosmo Baker, Hipsters, Humor
Tweet