Wednesday, September 22, 2010
Mishka x Diplo x Mad Decent present: Das Racist - Sit Down, Man mixtape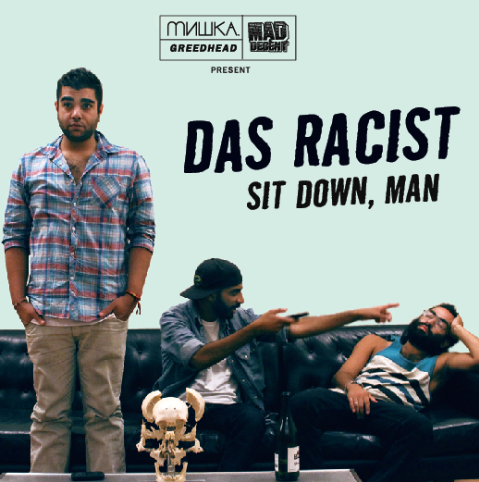 via:

"

Das Racist

have made an indelible imprint on the musical landscape with their irresistible pastiche of witty Dadaist-influenced raps, wry social commentary and tongue-in-cheek humor, and the trio returns with their strongest declaration to date. Today, the Brooklyn hip-hop crew is dropping their second mixtape of the year,

Sit Down, Man

, and it drips with their signature style you've come to expect while featuring a notable collection of producers including

Diplo, Boi-1da, Dame Grease, Scoop DeVille, Teengirl Fantasy, Devo Springsteen

and

Chairlift

, who also pull double duty as one of the many guest collaborators, joining the likes of El-P, Roc Marciano and Despot to name a few. The new collection is being presented by Diplo, Mad Decent, Greedhead Entertainment as well as returning partner Mishka.

The trio embodies a new generation of hip-hop, who borrow from the genre's trailblazers while pushing the limits and crafting their own blueprint. Sit Down, Man instantly reveals a group not only prolific but also one that matured exceedingly fast to new levels of art and musicianship. Their tongue-twisting, pop culture-referring rhymes flow steadily in unison with skilled production from a stellar collection of producers and contributors, with track titles like "All Tan Everything" and "Puerto Rican Cousins," embodying their clever content. "



Sit Down, Man

Track List:
01. wkcr stretch and bobbito with quincy jones (intro)
02. all tan everything (featuring jay-z) (produced by sabzi)
03. puerto rican cousins (produced by gordon voidwell and alex kestner)
04. hahahaha jk? (produced by boi-1da)
05. town business (featuring kassa overall) (produced by kassa overall)
06. commercial (produced by teengirl fantasy)
07. people are strange (produced by devo springsteen)
08. luv it mayne (featuring fat tony & bo p) (produced by tom cruz)
09. amazing (featuring lakutis) (produced by keepaway)
10. fashion party (with chairlift) (produced by chairlift)
11. rapping 2 u (featuring lakutis) (produced by sha-leik)
12. rooftop (featuring despot) (produced by dame grease)
13. irresponsible (featuring lakutis) (produced by like magic + das racist)
14. return to innocence (produced by dash speaks)
15. julia (the very best remix) (produced by das racist)
16. roc marciano joint (featuring roc marciano) (produced by mike finito)
17. you can sell anything (produced by diplo)
18. sit down, man (featuring el-p) (produced by scoop deville)
19. sit down, people (by dapwell and quincy jones)


Download the

Mishka x Diplo x Mad Decent present: Das Racist

- Sit Down, Man mixtape HERE.
Tweet