Monday, May 10, 2010
New Music: dead prez x DJ Drama - The Beauty Within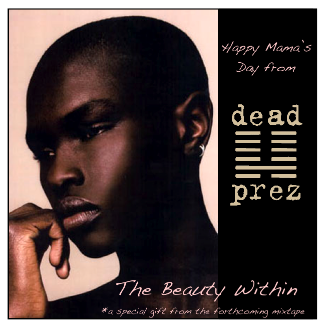 "In honor of Mother's Day, dead prez dedicates their new song, "The Beauty Within", to mothers everywhere. "The Beauty Within" is from their new project with DJ Drama and is a "takeover" of B.o.B.'s "Nothing on You".

The Revolutionary But Gangsta duo dead prez has teamed up with southern mixtape king, DJ Drama for a collaborative street album titled Revolutionary But Gangsta Grillz. In the spirit of dead prez's renowned Turn Off The Radio series, the album will feature a mixture of takeover (covers) and original beats with Stic.man and M-1 laying mind provoking lyrics with refreshed flow and resilience. The album will be made available for free download on June 10th, 2010 at www.deadprez.com as they prepare for the release of their soon coming full length album Information Age."

Obviously I'm posting this too late for Mother's Day but if you only acknowledge the mothers in your life on Mother's Day, that's just an automatic life #FAIL! Hoping you all had a great Mother's Day though, those of you who are moms, are married to mothers or are lucky enough to still have your mom in your life.
Tweet