Thursday, September 10, 2009
Mixtape Round-Up for Rappin Ass Thursdays
At least that's what my dude Nick is calling it! Whatever man, it's an excuse to post some of the mixtapes I've missed over the past few weeks....





Mixed By Plasticianhas and featuring Dubstep producers Chase & Status, Benga, 12th Planet and Caspa alongside hip-hop stars like Snoop Dogg (on the Chase & Status-produced "Snoop Dogg Millionaire), Xzibit feat U-N-I & Murs, Grand Puba, Ras Kass and Eve.

Download The Cashmere Agency Presents Mr. Grustle & Tha Russian's Dubstep LA: Embrace The Renaissance Vol. 1 here: yousendit [via The Smoking Section]

And even more dubstep...





Download the TRiLLBASS - Rapstep compilation here: direct mp3 link - right click & save as. [via Rock The Dub]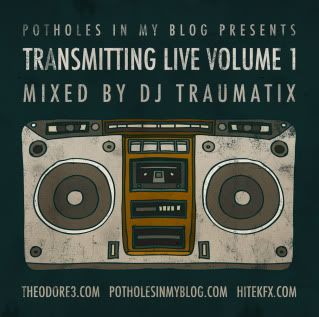 Mixtape mixed by DJ Traumatix features 29 exclusive and unreleased tracks from Blu, 9th Wonder, Trek Life, Keelay & Zaire, Buff1, M-Phazes & more.

Download Potholes In My Blog presents... Transmitting Live Volume One here: mediafire. [via Potholes In My Blog]

Online:

Potholes In My Blog - blog | twitter





Download the Gerald Walker - Evening Out With Your Girlfriend mixtape here: sharebee.





Here's the plug for Rukus and J-Slikk's The Chasing Cars EP:

"The whole concept was pretty simple...J-Slikk put out a beat tape about a year ago called the "Slikkstrumental Beat Tape". I heard the beats and thought they were aight, but too dusty...too hiphop for today's music ears.
In the meantime it seems like music got real soft, too many synths, and R&B and hiphop kinda began merging. I've got no issues with the music evolving, but I wanted to do something different...take it back to dusty samples, hard-hitting baselines, and just spitting. So I dug Slikk's beat tape back up a few months ago and worked on crafting it into something people would want to hear.

Its called Chasing Cars because I've been to India twice in the past year and the slumdog kids chase your car and bang on your window just wanting a chance for you to hear them out and possibly get their dream - a few dollars, or maybe a lot of dollars. In the same way I feel me and Slikk are coming from the same place...bangin on car windows trying to get people to hear our craft...so we can get our dream which is to get as many people out there to hear good music."

Download Rukus and J-Slikk - Chasing Cars (The EP) here: megaupload | zshare

And finally...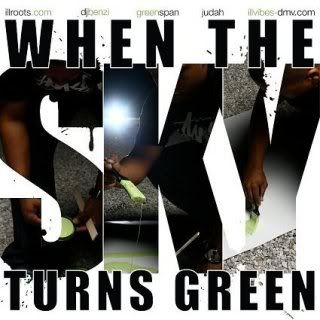 Download the DJ Benzi x Illroots.com x Judah x Illvibes-dmv.com present When the Sky Turns Green mixtape here: Sendspace | MegaUpload | Zshare | Deposit Files [via Greenspan Promo]

Labels: mixtapes, Nick Catchdubs
Tweet