Sunday, May 30, 2010
Music Video: Morcheeba - Even Though
Friday, May 28, 2010
New Music: Kanye West - Power feat. Dwele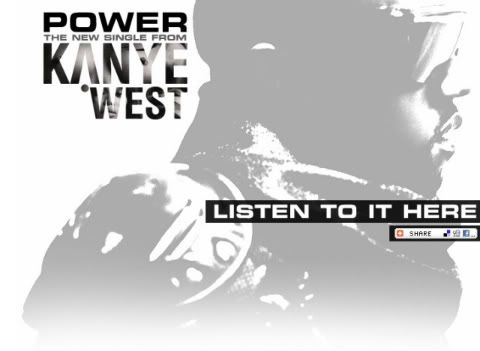 Geez, you take one day off to go handle business in NYC and

Kanye

decides to go and leak new music from his forthcoming

Good Ass Job

album. Don't get it f-cked up though: this track is bananas! If you hopped off his bandwagon 'cos of the left-turn he took on

808's and Heartbreak

, get back on 'cos it looks like the kid is focused again! Track produced by producer,

Symbolyc One

. Am I off in assuming he has something to do with

Erykah Badu

just 'cos he's from Dallas or am I right on that??

Thanks YN for the heads up when I bumped into him on 6th Ave. this lunchtime.




Kanye West

- 'Power'

feat. Dwele

[mp3 stream]

[via YourAudioFix.com]

Labels: Kanye West
Tweet
Thursday, May 27, 2010
New Music: Drake - Light Up feat. Jay-Z / Fireworks feat. Alicia Keys
Wednesday, May 26, 2010
New Mixtape: Major Lazer x La Roux - Lazerproof
New Music: Mark Ronson - Bang Bang Bang feat. Q-Tip
New Music: Common - Next Time (Just Right) feat. Queen Latifah (prod. by Kanye West)
New Music: T.I. - Got Your Back feat Keri Hilson
AP Video: Over 40 Dead in Fight to Prevent US Extradition of Jamaican Drug Lord Christopher 'Dudus' Coke
AP Video: Ariz. Police Chiefs Voice Concerns About the New State Immigration Law
New Music: Slakah The Beatchild feat. Ebrahim & Tingsek - War Within
New Music: Spek Won - 2nd Chances
Tuesday, May 25, 2010
New Mixtape: JDiggz - The X-Periment Tape
Music Video: Theo3 feat. Tona & Andreena Mill – How I Flow Pt. 2
Music Video: Arabesque - Understand
Music Video: KJ - Fresh Out the Box
Monday, May 24, 2010
New Music: Drake - Miss Me feat. Lil Wayne
New Music: T.I. - Yeah Ya Know (Takers)
Music Video: Agallah the Don - Nova Scotia Fems
AL Math Teacher Uses Barack Obama's Assassination as Example in Class
Unreleased Music: Stat Quo x Eminem - Atlanta on Fire / Classic Sh*t
New Music: Drake - Unforgettable feat. Young Jeezy
New Music from Justin Bieber: Somebody To Love (Remix) / Rich Girl
New Music: Christine Aguilera - Bionic
Ex-wife of 'American Gangster' Drug Lord Frank Lucas is Busted over Alleged Cocaine Deal in Puerto Rico
MLB Commissioner Bud Selig: the 2011 All-Star Game Will Remain in Arizona
BBC News Report: State of Emergency Declared in Jamaica over Attempted Extradition of Drug Lord Christopher Dudus Coke to the US
Sunday, May 23, 2010
New Music: Hypnotic Brass Ensemble – SpottieOttieDopaliscious [Outkast cover]
The Couch Sessions Presents Sunrise Suite
NFB Short Film: The Colour of Beauty
Rand Paul: The Scary New Face of the Tea Party Movement?
Saturday, May 22, 2010
New Music: The Roots - Dear God 2.0
New Music: The Girls Can Hear Us - Drugs, Dancin' (The Dirty Tees & SposhRock Remix)
Usher - OMG feat. Will I Am (H.O.T CITY Baltimore remix)
Leo Justi - Dunno Riddim (Kid Conga Remix Instrumental)
David Guetta & Chris Willis feat. Fergie & LMFAO - Gettin' Over You (Thomas Gold & Sidney Samson Remixes)
In Toronto: The Movie Leslie, My Name is Evil is Now Open
Belated Biggie Birthday Remixes by Dave Wrangler
Friday, May 21, 2010
Brucie B - Live From The Harlem Rooftop Mixtape
Video: GrandWizzard Theodore discusses the invention of the record scratch
HipHopisRead.com presents the Ice Cube - AmeriKKKa's Most Wanted Sample Set
New Music: Son of Bazerk – I Swear On A Stack Of Old Hits
News: Senate Passes the Financial Reform Bill
iluvlola.net presents The Tape Files / Session 1: Toronto mixed by DJ Lissa Monét.
Thursday, May 20, 2010
New Music: Alicia Keys - Un-Thinkable (I'm Ready) Remix feat. Drake + New Drake Freestyle
Music Video: Brown Face Gunna - Big Dreams
Introducing New High Society Artist AZAGE - Bars Outbreak 1.5
Video Trailer for the May 30th Stylus Nominee Party at the MOD Club in Toronto
New Music: The Connoisseurs of Culture present J. Nolan - BROKEN DREAMS
Wednesday, May 19, 2010
MALCOLM X - May 19, 1925 - Feb 21, 1965
New Music: Black Keys - Next Girl feat. Sugar Tongue Slim
Saucony's Perfect Pairs Series presents a Japandroids/Best Coast Digital Split 45 Release
Introducing new group Francis and the Lights
New Artist: Gordon Voidwell - Ivy League Circus
Kele (of Bloc Party) - Tenderoni (Larry Tee & Beckwith remix)
New Mixtape: A-Trak - Dirty South Dance 2
New Music: The Chemical Brothers - Swoon (Don Diablo Remix)
Trailer for Diplo's Favela On Blast Documentary
Video: Karl Sadler x XX Video-Light Installation
Thai 'Red Shirts' Protest Crushed by Military in Bangkok
Teabaggers Triumph in Kentucky Special Elections
Introducing The Nature Sounds Podcast - Best Of Ayatollah
Free EP: Oddisee - Odd Spring
New Artist: Bryan J feat. Travis Porter - Let Me Take You Out
CBS 60 Minutes on Deepwater Horizon's Blowout (Part 1)
Tuesday, May 18, 2010
New Music: Young Buck - Under Water
Video: Chiddy Bang - Translation Freestyle
Video: Off The Wall Sessions w/ The ILLZ